Our ROOTS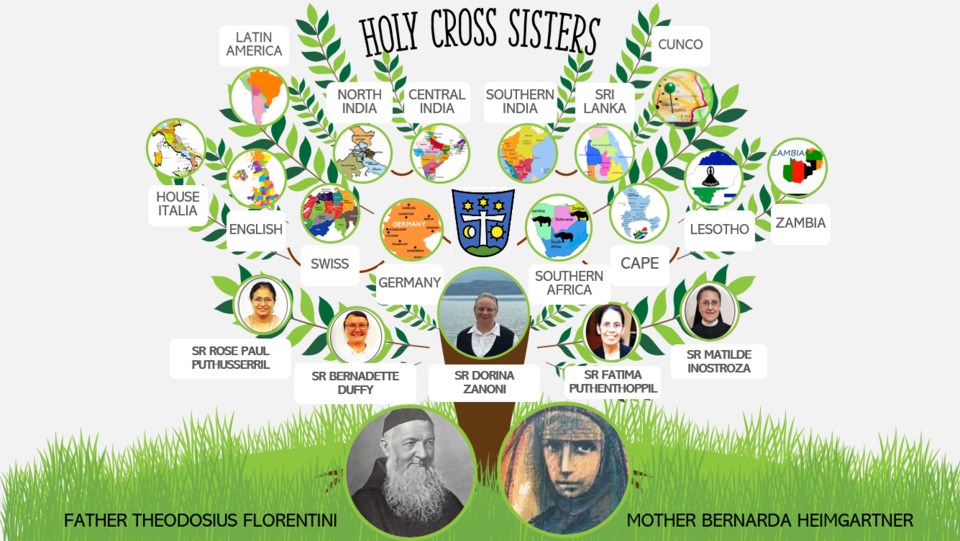 ..................We are known as 'Sisters of the Holy Cross Menzingen.' As women of Hope we strive to be a 'Transforming Presence' and bear witness to Jesus Christ in the reality where we live and work.
As Sisters of the Holy Cross we owe a great debt of gratitude to our Founder Fr. Theodosius Florentini, a Franciscan Capuchin Friar (OFM) and Mother Bernarda Heimgartner our Foundress. Our Congregation came to its existence on 16th October 1844 and was located in Menzingen. Within five years the community grew from three to twenty-three members. The sisters took up education in many church-run and government Schools in Switzerland. From the village of Menzingen the Congregation grew and spread mainly to the poorer central parts of Switzerland. From 1845 to 1851 thirty-seven sisters managed schools for the education of local girls from fifteen villages.
From 1883 onwards, the Congregation sent out missionaries to other countries of Europe and to other continents of Africa, Asia and South America.
The Congregation is a community of Sisters of different nationalities, languages and cultures. The Congregation, in its readiness to be of service to the society, took up health care, education, care of orphans, care of the women in need and various other pastoral and social works extending through various locations.
As Holy Cross Sisters we bear witness to Jesus' message of the Kingdom of God and make it known among the people.
Our Motto is: 'In the Cross is Salvation': 'In Cruce Salus'.
The Spirit of the Congregation is in particular the spirit of the cross. It points to faith in the redemptive power of the Cross of Christ and is for every Sister a well spring of hope, strength and joy. Through our Charism we respond to the needs of the time and reality in which we live. Through our ministries we share the mission of Christ as we proclaim and build His kingdom throughout fourteen provinces of the world.
Our Founders promoted life through education of the poor and inculcating in them Christian values, for they believed in the liberative and transforming power of Education.
Today as promoters of life we are called to reach out to where life is endangered. To do this we collaborate and network with parishes, soical leaders, church Institutions, health care organisations, governments and non-governmental organisations for the transformation of the society where we promote justice, mercy and equality.
As co-creators we embrace God's creation and in solidarity we make measures to live sustainably. In this changing and challenging world, we continue ongoing personal and communal formation and keep abreast of new developments in church and society. With a contemplative approach to life we seek to respond pro-actively to the ongoing needs and challenges that we face.