Central Indian Province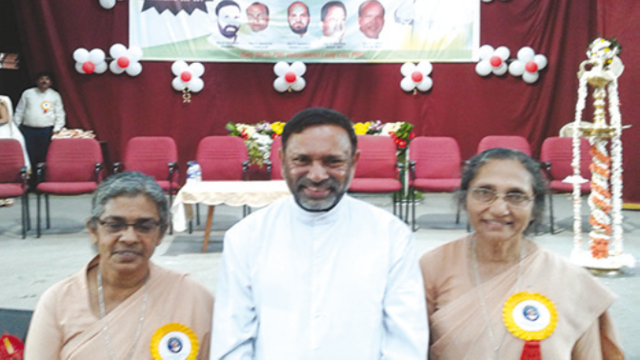 Jeevodaya Ashram – 25 Years of Service to the Broken Hearted…
Jeevodaya Ashram came into existence 25 years ago on 22nd January 1995, when Srs. Fidelis and Clara heard a 'call within a call' to care for the people – men and women behind the bars, women in distress and in any moral danger.
'The more one becomes God's friend, the more one will care about the things He cares about. Giving a new life to someone, whom nobody cares about, someone who never expected a new life after the twist of events, is a great thing before God'.
Jubilee is a time to celebrate the blessings of God, the memories of yesterday and the hope of tomorrow. On 30th January 2020 Most Rev. Dr. Peter Machado, the Archbishop of Bangalore Archdiocese, along with Rev. Fr. Xavier Manavath, the Episcopal Vicar for Religious, present and past National Co-ordinators of Prison Ministry of India and the priests from all our neighboring institution offered a thanksgiving Eucharist for all the past and present inmates of the Jeevodaya Ashram. Twenty five years ago the Sisters of the Holy Cross took up a daring and bold step by starting Jeevodaya community for the released women prisoners and women in any distress or moral danger – physical, mental and social – giving them chance to mend their brokenness, heal their wounds and be rehabilitated.
We believed that the gift of God reaches to broken hearts through our hands. Before we got involved with the activity of caring for the broken hearted, we went through a self-discovery and self-renewal which enabled us to have a transformation so that we become effective instruments in transforming the inmates who stayed with us. We made them to understand that they are the author of their book 'Life'.
We empowered them to move on with courage to continue their life journey. We listened to their heart aches patiently and relieved their pent-up hatred feelings of anxiety, fear, anger, grudge etc. When they were relieved of their hatred, they were given opportunity to reconcile with their family and people. Once they were freed of their ill feelings they began to interact with the group and got involved in the activities and from time to time they were appreciated and supported. Group living gave them ample opportunity to let go of all the past hurts and pain.
Our involvement in the rehabilitative activities gave them always light when they were totally in darkness. The sisters involved in this ministry visited the prison with special permission and imparted to the in-mates positive energy as we found that these women do have a divine fire in them. With individual counselling and group therapy and other activities they began to change their attitudes and thinking.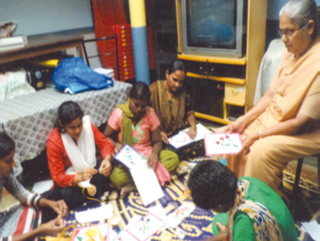 Jeevodaya is an exceptional community with simple lifestyle, keeping these women in our hearts, living with them just like a community, sharing everything in common. It calls for a prophetic, innovative, creative and dedicated life together with these broken women and young girls. The same simple lifestyle is continued even today. Jeevodaya offered to the world and to the Church a splendid contribution and our sisters prepared the inmates to insert themselves into the society after their transformation. They recalled the three main factors like 'Release, Renew and Rehabilitate' that played a vital role in transforming these wounded women and young girls during the past 25 years.
During the past 25 years seventy five girls who were with us got settled in life. Almost 359 are engaged in one profession or the other and earn their own income, Ten of them completed Nursing courses and are working, four have completed courses in computer application and one is currently doing the course on Masters in business administration and fifteen have done the Beautician course and are doing well. All together 761 inmates were offered help in different ways for their transformation and to get back to the society as normal people with new life to carry on with their activities. The expenses of their education were born by generous benefactors. Most of them are settled in life and living happy family lives.
From the experience of nothingness and total dependence on God comes the fruit of Divine providence. In His providence we never lacked anything during the past 25 years. Nor has any unpleasant events occurred, though there was no compound wall or any form of security for the house. We were extremely happy that we have spent our life with these broken-hearted inmates so as to offer them new life.
A few of our rehabilitated inmates shared their lived experiences during the silver jubilee function and related with gratitude how they could move on to the mainstream of the society and found meaning for life.
We raise our hearts in gratitude to God for the wonderful ways He had been accompanying us during the past 25 years and we trust and believe that He will continue to carry us in the palm of His hands always taking us to the shore of hope, peace and joy.
Great things happen when we surrender everything in the hands of God and He works miracles and makes everything beautiful in His time. Let us be pliable instruments in the hands of the Lord to bring new life to many who grope in darkness, who do not see a silver line in their life.
Sr. Fidelis Nedumpara