God has blessed his people!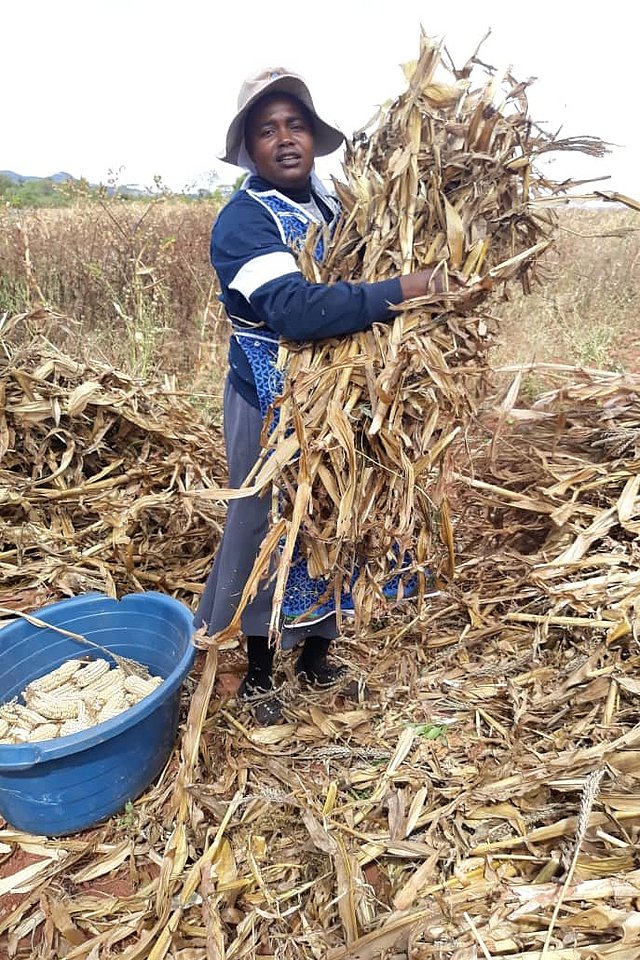 The Farm situated in Zimbabwe, was bought in 2015. It was forest and there was nothing growing. In May 2019 a Vocational Training Center began for youth and school dropouts to encourage entrepreneurship.
When I first heard from our Provincial Leadership Team that they had invested in buying a 210-hectare farm in Zimbabwe with the view of building a Vocational Training Center, my initial thoughts were the practicalities of such a large enterprise. The Sisters were small in number and the amount of time and work involved in such an undertaking would be immense. I also wondered about the safety of a few Sisters in such an isolated place. On top of that, the economy of the country wasn't good and we did not have the title deeds. All things considered I was not optimistic about the outcome of the new venture.
The Holy Cross Sisters are involved in seven stations in Zimbabwe but all of them are under the auspices of two Dioceses. This vision however with all the hard work, uncertainties and financial output belonged entirely to the Holy Cross Sisters.
From the relative safety of Belfast where I now live I built up a rather negative picture of the project thinking it would never get off the ground. It seemed to me to be too ambitious. The plan was to build a Vocational Training Centre and educational facilities for the needy including orphaned and vulnerable children due to HIV and Aids crisis. On the other hand I couldn't help but think of the risks our Founder Mother Bernarda, took when she moved into the unknown armed only with complete trust in God's providence. Her thinking was that the needs of the time was the will of God. I concluded then that the Provincial Leadership Team was well tuned in to the needs of the people in Southern Africa and through prayer and discernment they had come to the conclusion that such a project was exactly what was needed. So admiring their trust in God and their enthusiasm I wished them Gods blessings and prayed that their hard work would bear fruit.
I got regular feedback from the PLT and received photos through WhatsApp from Sr Therese McManus who had transferred from Belfast to Zimbabwe and was now the Farm Manager.
What initially was a vast expansion of forest and rubble was now acres and acres of cultivated land yielding all sorts of produce. There were rows and rows of butternuts, carrots, peas, tomatoes, mealies, garlic, beetroot, spinach, lettuce, sweetcorn and green mealies. There were cattle, pigs and chicken, and their waste was used as manure to fertilize the land. There was evidence of self-sufficiency and good husbandry 'Laudato Si' came to mind. The earth was being cared for and nurtured and yielding a rich harvest.
It was so evident that God had abundantly blessed this project as it went from strength to strength. I prayed He would also bless all the Sisters and workers for their dedication and commitment and for sharing their gifts and abilities with the poor and needy.
There is a Chinese proverb that says that if you give a man a fish you feed him for a day but if you teach him to fish you feed him for life. This was surely what was happening in the Vocational Training Centre in Zimbabwe. Each student is given the opportunity to develop agricultural skills, team work and the confidence to return home and start their own enterprise business and make themselves self-sufficient and financially independent. It was wonderful and such a mark of the success of the Training Centre to see the young pioneer group who had come with little or no self-worth proudly reach their goal of graduation. It was a joyful experience for all of us too to know that we were involved in equipping the youth for a future filled with hope.
Our founder Father Theodosius Florentine believed that "religious are called to alleviate educational, religious and social needs, to help people and show them new directions." That my dear Sisters you have done for our "School dropouts". Well done good and faithful servants!
submitted by Sr Patricia Kelly, Belfast