Final Professions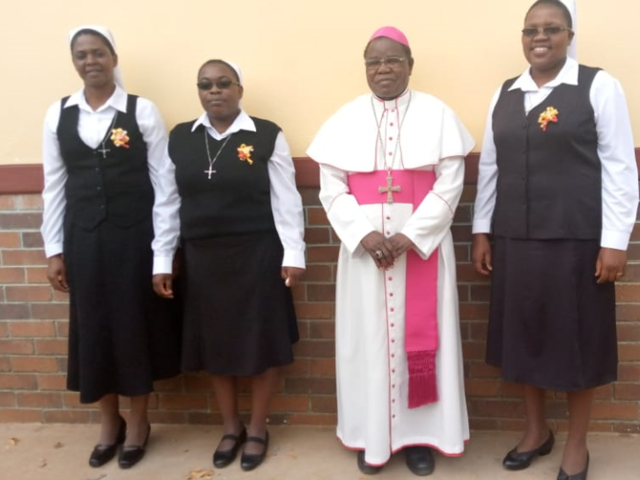 Final Profession of three Holy Cross Sisters:
Sr. Anna C. Bondeka, Sr. Gloria A. Kudakwashe and Sr. Jenifer R. Makanda
Today the 12th of September three Sisters, Sr. Anna C. Bondeka, Sr. Gloria A. Kudakwashe and Sr. Jenifer R. Makanda committed themselves to God in perpetual vows at Bondolfi Mission. This occasion was graced by the presence of Bishop (Sekuru) Michael Bhasera as the main celebrant. In his opening remarks, Bishop (Sekuru) Bhasera reminded the sisters that they were making history as they are the first sisters to make their final profession in the Covid19 era in Masvingo Diocese and thanked them for their total commitment to God. Conscious of the covid19 reality, at this occasion people maintained social distancing and sanitised their hands before and during the Eucharistic celebration and wore their masks throughout. Present were Bishop (Sekuru) M. D Bhasera, the Vicar General Fr. W. Nyatsanza, 10 Priests, 23 Holy Cross Sisters. 5 postulants, 7 Candidates, 2 seminarians, and about 20 parishioners bringing the total to approximately 67 people.
The absence of the family members, friends and family was felt as sisters who are usually accompanied to the alter by many rejoicing family members today were accompanied by a local parishioner representing all their family members. The Southern African Provincial, Sister Monica Madyembwa and other Holy Cross sisters could also not attend the Profession due to Covid19 travel restrictions, but their presence was felt as some were online throughout the streaming of the whole celebration. We also appreciate the support from our Superior General Sister Dorina Zanoni in absentia.
The first reading was read by Sister Keresencia Ngoya, the second reading was read by Sister Apolonia Deka, the Gospel was read by Rev. Deacon Martin Muyambo and the Homily was given by Rev. Fr. Samson Mutsvanga. Father Mutsvanga reminded the sisters that they should not live like some student teachers who drop all the hard work and quality lesson plans after graduation. He compared a graduation to final vows and told them that they should not drop all the religious practices they were doing in temporal vows like prayer, community life and service. He also emphasised that the sisters should not hold on to their past as the Israelites did by constantly referred to their previous lives saying, "When we were in Egypt". He encouraged everyone present to reflect on their "Egypt's" and let them go. He highlighted that the Israelites had to pass through the desert before they entered the Promised Land. This he said is a reality for every religious who has to also go through the "deserts" of life. But the call is not to complain. Rather they should pray and repent as the Israelites did. As sisters who are following St. Francis, he said "you are called to go the peripheries" and there like St. Francis reach out in simplicity eating what is offered and never demand to be treated highly. He quoted Pope Francis who encouraged religious to be like "shepherds who have the smell of their sheep" through loving their life of service. Another point he reiterated was for the sisters to be content with the life they have chosen. He said "if you eat looking in other people's plates you won't be satisfied". Therefore, the professed sisters should not wish to be Dominicans or Marywards or anything else but live happily as Holy Cross sisters.
Sister Margareth Nhariwa was the Provincial Delegate and each sister's superior (Sr. W.Makonese for Sr. Jenifer, Sr. W. Chivasa for Sr. Gloria and Sr. O. Musekiwa for Sr. Anna) were the witnesses while Sr. T. Mafuta was the second witness for all the three sisters. They professed their vows solemnly. The singing throughout the celebration was beautiful.
After Mass, everyone was invited to the deliciously prepared meal by Sister Otilia Musekiwa and her catering committee.
Compiled by Sister Loice Mutuda