Trinitarian Love and Relationships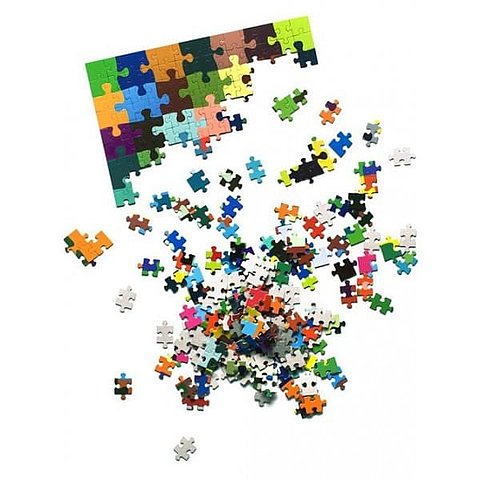 During the past months of lockdown, I had more free time than usual and this gave me the chance to build some jig-saws (which I like doing very much). Over the weeks as I built the puzzles I began to reflect on the puzzle of life and the present reality in which we have all been living.
It has been some +/- 12 weeks since the beginning of lock-down here in Switzerland and other parts of Europe, extending to Africa, India, Latin America and throughout the whole world.
While starting the jig-saw puzzles I was faced with 1000 pieces of different shapes, colours and textures. In putting these pieces together, I had a sense of the connectedness of each life and how each one of us forms part of another, even though, of different ages, nationalities, giftedness, gender, personalities, backgrounds, temperaments, education and life experiences. I also realised that the final jig-saw would not be complete if anyone piece was missing… hence, the emphasise on the reality of each one of us contributing to the bigger picture of life as we live and love our neighbours.
How wonderful would it be if in reality we all realised how we need each other and to know we are not individuals that make up a world but that we are a world made up of individuals who belong to each other. I have let this idea grow in me for the past few weeks and as I prepare the liturgy for Trinity Sunday, my thoughts somehow come together and I invite you to reflect with me how might an abstract-sounding church doctrine matter now?
We find in scripture and the teaching of the Church that the nature of God is an essential connectedness. God is more than we can wrap our minds around and that is necessarily so. Yet the Trinity is not a mystery in the sense of a puzzle we can't solve; the Trinity is a mystery in that we see the truth of it, but there is more than we can fully comprehend. Using the word mystery, in this case, is closer to describing as mystery the love among humans, neighbours, parishioners, colleagues and friends, even pets and animals. We can and do know of God from God, by the revelation of scripture, from the way God is revealed in nature, and through that most perfect revelation of God, Jesus Christ. And yet, there is more than we know – a mystery that is deeper than our minds can fathom.1
One of the earliest teachings I had on the Trinity was to believe that the Trinity is Three person in One; Father, Son and Holy Spirit. Simply understood, the Father is the One who has called us into being and life, to live in imitation of His Son, Jesus, by modelling our lives and our daily choices on the values of Christ and to do this faithfully we need the constant inspiration of the Holy Spirit. As basic as this may sound it forms and continues to form how I respond to life, people and creation.
Words of course are limited when we try to understand any mystery but when I think of the Trinity I think of unity, integration, interdependency, belonging, wholeness, inter-relational, intimacy and community. These are all words that describe the deep yearnings, aches and desires of our human hearts. Oh, how good it would be if we could live with ourselves, each other and the whole of creation in the oneness of the Trinity.
Although we often desire this Trinitarian love and inter-relationship, we often fall short. But we humans love to get together. This is a lesson learned so well during the lockdown restrictions that have come with the Corona pandemic. We are by our very nature called to communion.
John O' Donohue voices this well in his book 'Eternal Echoes' where he explores the basic tension of belonging and longing: the longing of our being and the being of our longing. When we belong, we are at one with other people, ourselves, and nature. When we belong, we can be suffused with longing. When we long, we can dream, discover the divine, be the midwife to our soul, and manifest possibilities.
To be human is to belong. Belonging is a circle that embraces everything; if we reject it, we damage our nature. The word 'belonging' holds together the two fundamental aspects of life: Being and Longing, the longing of our Being and the being of our Longing.2 I borrow this concept as it reflects for me the interconnectedness, belonging and longing, I beleive, lies at the heart of each person of the Triune God for the whole of humanity, for each individual person and all living organisms on the earth.
Over the last months of being separated by the coronavirus that sense of community, longing and belong has not be broken. Across the Church, and in daily business and social life people were so creative in finding ways to stay connected. Limited and maybe imperfect as they are, our new ways of joining together come from a deep longing which is in the very heart of Holy Trinity.
In the gospel of St Mark 12:28b-34 we hear Jesus say 'Love God with all your heart, mind, soul, and strength and love your neighbourur as yourself.' This is the purpose for which we were created: Before God created everything, we see and know, there was a communion of three separate persons of the Godhead who created us out of love, for love. Not just one being, but relationships and communion, before time and forever. This is why we were created: to be in healthy, loving, generative relationship with God and all creation. And out of this web of relationships comes both our salvation and the redemption of all creation. We are to praise, reverence and serve God with a relationship that is fundamentally rooted in Him and that looks outward towards all of humankind.
When we come to love God more, we hopefully and simultaneously come to love each other more. Therefore, we can say that the love of God we have draws us to love and serve each other. Loving other people fully means seeing them as God sees them, and so loving people can also draw us to God. It is the communion for which we were created.
The desire for the human to be connected is evident in the web of relationships that we create, evidence of this yearning for deep connection is noticeable in the number of people who are registered on WhatsApp, Facebook and other social media. Living from this premise reflects how we are individually and collectively woven into the tapestry of life.
The African concept of Ubuntu states it well:
'Motho Ke Motho Ka Batho Babang3 (A Person is a Person Because of Other People).
In this time of physical distancing to stop the spread of the virus, we are discovering more about how deep our human longing is for community. While we may not gather in-person for worship, the essential truth of God as revealed in the Holy Trinity is all the more urgent in our present moment. We are connected deeply to all creation. That is the essential reality the Trinity helps us to understand.
We also live in a society with great divisions and we all know of people who are alone in a time of despair and anxiety. The love we are created to show then must find expression in our reaching out to others in the ways available to us. This is not something we do to earn the favor of the Holy Trinity. Instead, staying in contact with others is part of how God blesses us, letting us be a channel of grace to those we call, write and meet with online.
Early Christians put the practices of faith ahead of trying to be precise about what they meant when referring to God as Father, Son, and Holy Spirit. We, too, can prioritize practices of faith and let our understanding catch up later. The real grace in our understanding of the Holy Trinity is that it shows us that none of what we want to do for others relies on us alone – for the Holy Spirit will work through the imperfect words and actions to connect us to other people and more fully to our Triune God.4
All through the Bible, there was both the idea of one God and the description of the Father, Son, and Holy Spirit. Greek writers would use the term trias, and the early church writer Tertullian coined the Latin word, Trinitas, or "Trinity". He also coined "Person" and "Substance" to describe what his mind saw when he contemplated the scriptures regarding the three-in-one God. Tertullian would say that there is a Trinity—a three-ness—with three separate persons of a single substance.5
The analogies used to describe what we mean fall short, as we see in Saint Patrick's three petals forming a single shamrock. We could speak of other analogies for the Trinity, but whatever language we use, we know God is a mystery that we cannot understand with our reason but we can understand a God who is a mystery, and a God who is personal and relational, and a God who desires relationship with each one of us. He is the great 'I am' seen in His encounter with Moses in the context of the burning bush (Exodus 3:14).
This Trinity Sunday let us reflect on the quality of our relationship with God; Father, Son and Holy Spirit.
Which person of the Trinity do we relate to most consciously and how does this relationship translate into our daily lives?
God bless,
Sr Bernadette Duffy
Resources:
1 Logue. F. 2019. The Dogma of the Trinity.
2 Donohue. J. 1999. Eternal Echoes: Exploring Our Yearning to Belong
3 Mnyaka. M. et al. 2005. Black Theology. Volume 3, 2005 - Issue 2 Published online: 21 Apr 2015
4 Logue. F. 2019. The Dogma of the Trinity.
5 Walker. B. 2015. Appreciating the Mystery of "Three Persons" and "One Substance"